Home
Our Remedies are All Around Us
Yukon Oracle Cards: A Journey of Personal Renewal

The Yukon Oracle cards are photographs of nature around where I live.
These cards can be interpreted as imagery to spark your intuition, offering help and guidance in your life.
In traditional cultures, including Western culture, Nature is more than a backdrop to our lives: it speaks in symbols that can help guide us. What if, wherever you live ~ in the city or outside, nature's ongoing commentary was all around you too? Then, from the hopefulness of blossoming trees lining city streets in spring, to the sombreness of clouds indicating a storm, to gorgeous pink and orange clouds at sunset, Nature in all its change could be relied on as a force that is available to help us.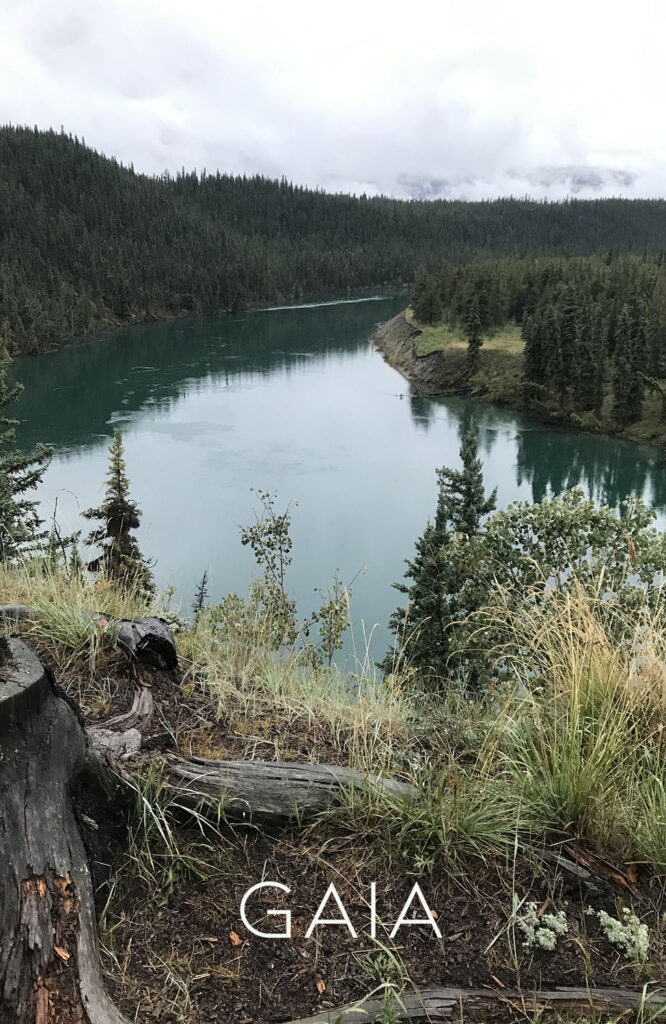 The reason I think people should look to Nature as an option for
guidance is that it acts as a bridge between what is actually happening
and what we can see as hopeful new possibilities if we reorient our
vision. Giving significance to its quirky and very personal feedback,
and noticing that it continues to show up to support me in bringing the
results I seek, allows me to trust it.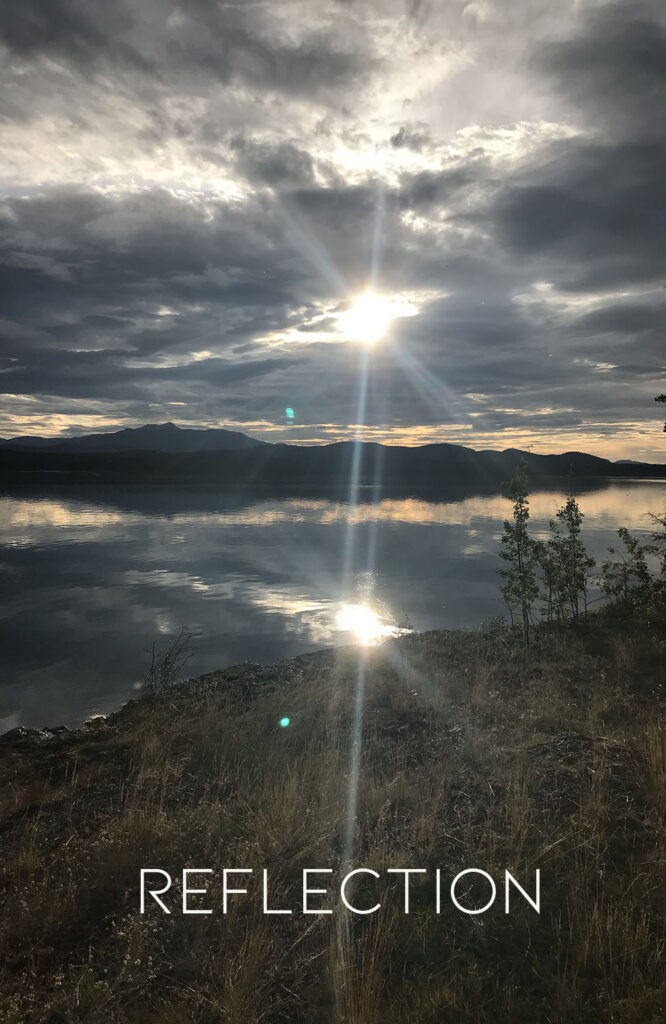 I was puzzling over a question when I went to go swimming last summer and the lake looked like this, inspiring the card called Reflection. That beauty cheered me up immediately!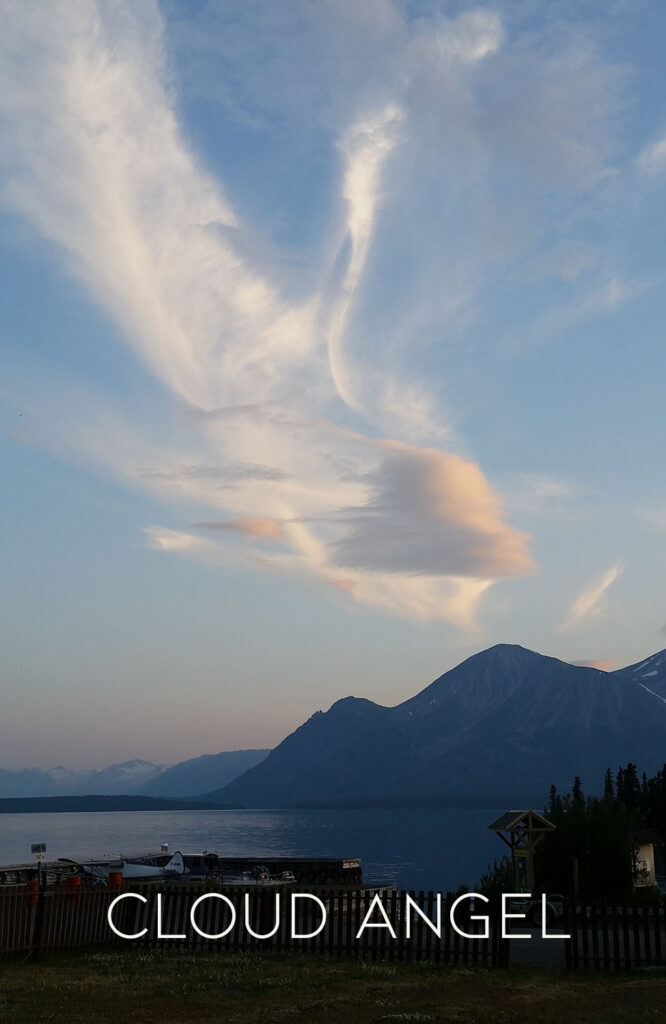 Cloud Angel acknowledged that even if my thoughts feel fragmented, so are clouds, yet they also deliver nourishing rain.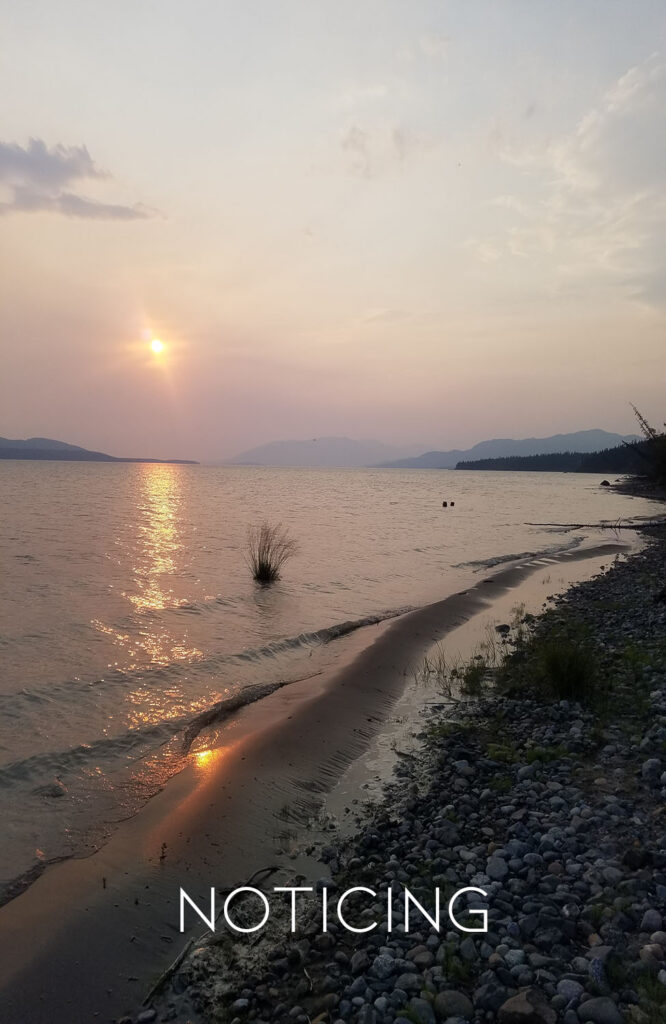 This card, called Noticing, is about how we read Nature's feedback. We intuitively know there's something wrong with this opaque orangey sky ~ and it's because it's forest fire smoke! Similarly, we feel relief when things clear up.
I called this next card Recovery, because the Fireweed and Yarrow in it are traditional medicinal plants.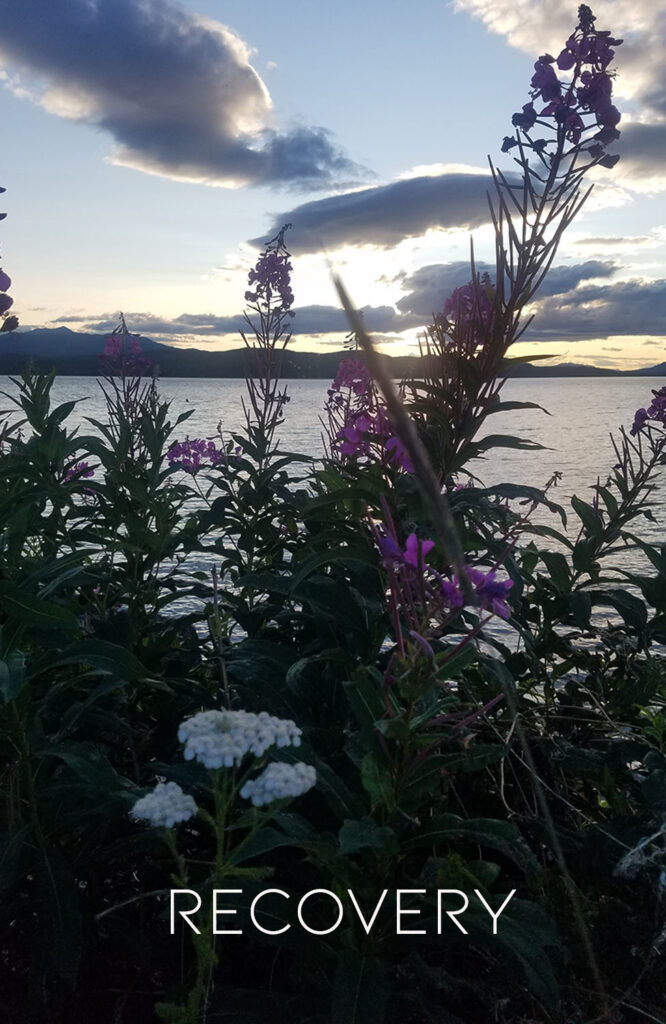 The magenta Fireweed is the first plant to return after a forest fire, which is strong healing symbolism. And the many white blossoms of Yarrow (scientific name Achillea millefolium) have been known to have medicinal properties for thousands of years; the name Achillea alludes to Achilles binding his soldiers' wounds with Yarrow in the Trojan war.
With hints like these, Nature can advise us on how to move forward creatively along our journeys. Just as you might receive guidance during a shamanic quest done in the wilderness by seeing a wild animal or natural event, Nature can offer signs relevant to you every day where you are, helping you move through life with ease and confidence.
Most people now know that higher levels of self-awareness come from contemplating and clearing our inner selves. But with nature known to help reduce anxiety and depression, we become even stronger when we also orient to our surroundings. This is known as regulating physiologically (attuning through the 5 senses to stabilize while also clearing difficult emotions inside). This is step one. Step 2 is Journaling to record your visionary insights because journaling anchors your thoughts into the greater reality of being recorded.
Do a reading with the Yukon Oracle Cards to tune into this guidance and healing energy even more!
Anchor those insights you had, by journaling.
More clarity leads to better choices.
Get your Yukon Oracle Workbook so you can start this guided Journaling now.
LINK TO LANDING PAGE WITH FREEBIE http://remedywoman.com/wp/?page_id=392